There are great stories about immigrant families that were unfortunately forced to leave their homes because of war, only to make their way to another part of the world, often the U.S., to make a new life. However, the move is almost never easy and the achievements of those who make it here do depend on incredible self-will and the support of family, friends, and the community.
One such story involves high school football player Nermin Delic and his family and their move from Bosnia.  You can find the story, written by Matt Winkeljohn in a special to ESPN.com, at http://sports.espn.go.com/ncaa/recruiting/football/news/story?id=4498649, with an excerpt below.
(Excerpt)
Bosnian refugee earns football ride
Nermin Delic has done the recruiting dance, yet the tale of how the Northwest Whitfield (Ga.) High senior pledged to play at Maryland is a downright bland jig that pales in the family scrapbook.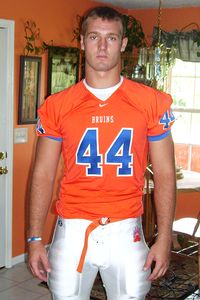 Delic FamilyNermin Delic plays football and basketball in high school.
The defensive end/tight end seems normal enough. His coach, Mike Falleur, said, "He's like anyone else. When he doesn't know you, he's probably quiet. He loves to talk sports. Loves the Lakers, loves Pau Gasol. He does what he's supposed to do."
That's downright vanilla next to the primary Delic story line.
No recruiting story can hold a candle to the ones about Dad dodging bullets, shrapnel and politics in Bosnia, or a family odyssey that has included communism, genocide, a green beret, a victorious but ruined nation, and a failed first attempt to relocate in America.
Delic's trip to College Park, Md., next fall will be like a trip to the grocery compared to the journey Edin and Hana Delic led their family on beginning Dec. 9, 1997.
The story comes with an accent, not so thick as to be misunderstood, but tinged enough to help a listener visualize the region from which it came, twisted with the angst of a big move more common a century earlier.
Edin Delic fought in the special forces unit for Bosnia as it resisted the former Yugoslavia's provincial attempt to pull it into communism's fold — an admittedly simple explanation of a complicated war that some considered civil and others felt was regional.
By '97, the war had been won for well over a year; Bosnia was free.
But the cities were gone, infrastructure cratered.
Serbia, Croatia, Herzegovina and other regions in what had once been Yugoslavia were struggling to carve out new and unique identities, so there was little for an impoverished family to seek ownership of — only loose soil in which to try to drop roots.
"I don't know how much you know about Bosnia, but you can imagine one thing about how a country can look like," Edin Delic said. "Everything [was] destroyed. I didn't see my kids growing up in that kind of environment. It was an independence war, but ended up region war. People just start classifying themselves. This was not an environment for my kids to grow up [in]. Not their fault. I didn't see much future for my kids."
(The article continues at http://sports.espn.go.com/ncaa/recruiting/football/news/story?id=4498649)