I am excited by the start of the UFL's inaugural season. I admit that excitement is more about the prospect of seeing a new league, especially a pro football one, get started, go through some pains, and ultimately make it.  This is the essence of entrepreneurship, i.e. seeing a market opportunity, assembling a staff who believes in the vision, and developing and then implementing a strategy that will hopefully prove successful. It's the same whether you are launching a new software company, brand of soap, or a professional sports league.
I'm sure that I will get to the point of getting excited about the New York Sentinels beating the Florida Tuskers, partly because I am such a New Yorker and I desperately need any team I follow to win SOMETHING. It will take some time. I am willing to give the UFL that time and hope that you do as well. This is a venture led by a stellar management team and I would not bet against them.
For a good look at the League, please see the piece from Greg Garber at ESPN.com. You can find it at http://sports.espn.go.com/extra/ufl/news/story?id=4535959, with an excerpt below.
(Excerpt)
So, as the United Football League kicks off its premiere game Thursday night at Sam Boyd Stadium in Las Vegas, what exactly do we have here? When the California Redwoods collide with the Las Vegas Locomotives (a fair fight, one would think) will it look more like the NFL — or the late, not-so-great XFL?
Last week, Jermaine Wiggins, the Florida Tuskers' 34-year-old tight end, was asked this somewhat flippant question: Are the UFL's teams good enough to beat … uh, say, Boise State?
Wiggins, who started Super Bowls for the New England Patriots and Carolina Panthers and caught 236 passes in seven NFL seasons, answered with what sounded over the phone like a straight face.
[+] Enlarge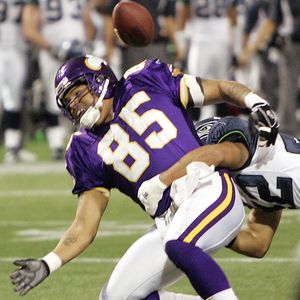 AP Photo/Ann HeisenfeltJermaine Wiggins played in the NFL, so he knows what the UFL is up against.
"I'd like to think we could beat Boise State," Wiggins said from the Tuskers' training base in Orlando. "This is a very high, competitive level of football. Give us the time to come together as a team, minicamps and a full offseason workout program, and we would be competitive in the NFL. I'm telling you."
Jim Fassel, who coached the New York Giants to Super Bowl XXXV, laughed when Boise State came up in conversation.
"Yeah," the Locos head coach said from Las Vegas, gathering himself. "Knowing what I know about our team, yeah, we could beat Boise State. People forget we're playing with guys from Florida State and the SEC, big schools, and they were stars at those schools.
"The quality of the players we released at the end … it surpassed what I thought we'd end up with. Bill Walsh used to say that at the end of the day, there's not a big difference between the last 15 guys on an NFL roster and the last 15 guys you cut."
UFL literature states that the new league will "offer credible, 11-on-11, outdoor professional football in pro-quality venues." Credible? Could Fassel's Locos compete with some teams in the NFL?
"Yeah," Fassel said, sounding serious. "I believe that."
(The article continues at http://sports.espn.go.com/extra/ufl/news/story?id=4535959)