The US Open tennis tournament on 8/31 took time out to honor several sports legends for their work away from their respective fields of play. Each of them – Andre Agassi, Mia Hamm, David Robinson, and Doug Flutie – has a rich story behind their efforts.
Two things to take away from the piece, which is focused on Agassi, is that all of us have to figure out how to give back in an efficient way, whether you measure efficiency in terms of dollars, time, or both. The other is that mistakes will be made and that learning from those mistakes, as opposed to abandoning entirely the idea of giving back, is the better route to take.
From the Associated Press. The full article can be found at http://sports.espn.go.com/sports/tennis/usopen09/news/story?id=4436016, with an excerpt provided below.
(Excerpt)
NEW YORK — Andre Agassi walked back onto the Arthur Ashe Stadium court and bowed and blew kisses to the U.S. Open crowd.
Then he gave a speech on education policy.
His passion made Agassi beloved among the New York fans. Now that exuberance is devoted to his charter school in his hometown of Las Vegas, his emotion stoked by this year's inaugural graduating class all going to college.
[+] Enlarge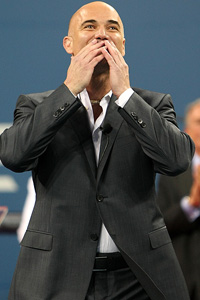 Al Bello/Getty ImagesAndre Agassi returned to Arthur Ashe Stadium for the first time since the final match of his career at the 2006 U.S. Open
Agassi, Doug Flutie, Mia Hamm and David Robinson were honored as athletes who give back at opening night of the Open on Monday.
The eight-time Grand Slam champion wouldn't send his own children to the Andre Agassi College Preparatory Academy. That's because he can afford to send them to any school of his choosing — his goal is to serve the children whose families can't.
"It's just too important to me that this school reaches those children, the ones that society has written off or are quickest to write off or that are just being assumed to not have a chance," Agassi said at a news conference after the ceremony.
Agassi returned to the stadium for the first time since playing the final match of his professional career at the 2006 U.S. Open, his record 21st straight appearance at the tournament. When Agassi made his Flushing Meadows debut in 1986, it would have been hard to believe that the rebellious teen would one day become an education philanthropist.
He joked that "not only did I leave Bradenton Academy in the ninth grade, but eighth grade was the best three years of my life."
"There were a lot of moments I didn't understand, I was confused by, scared by," Agassi said of his evolution as a tennis player — and person. "A lot of times I wanted to hide from facing it. But I'm still in process.
"So don't believe what you're seeing here either, because unless I continually ask the most from myself — you know, it's a way of life. It's a choice of life," he said.
These days he's professorially serious about education. Agassi sounds completely comfortable talking about how legislative changes can improve schools, how his academy's model can be scaled, how teachers can be held accountable.
"What Andre did in his career is incredibly impressive," said No. 21 seed James Blake. "But to have someone who can be more impressive after their career is so rare."
Like Agassi, Robinson opened his own school. Flutie and Hamm support medical causes that have affected their families: autism for Flutie, bone marrow transplants for Hamm.
Agassi concedes that, no different from his tennis career, he stumbled along the way as he matured as a philanthropist. At first he spread himself too thin, trying to aid too many causes at the expense of focusing on one to make the greatest impact.
Even with his academy, at times he made decisions too impulsively.
Those lessons are why Agassi founded Athletes for Hope with Hamm and other sports greats in 2007. The organization advises athletes in their charitable efforts.  (The article continues at http://sports.espn.go.com/sports/tennis/usopen09/news/story?id=4436016)