As a lifelong Jets fan, excuse my doom and gloom attitude. 🙂
For Hispanic Heritage Month, Richard Lapchick writes a piece on Mark Sanchez and how his success might bring more light to the successes of those of Latino descent in the NFL.
by Richard Lapchick, Special to ESPN.com.  You can see the full article at http://sports.espn.go.com/espn/hispanicheritage2009/columns/story?columnist=lapchick_richard&id=4502612, with an excerpt below.
(Excerpt)
Mark Sanchez and football's lost past; Jets' Sanchez might bring light to the overlooked history of Hispanics in pro football.
The New York Jets are off to a 3-0 start and the media is in a frenzy over quarterback Mark Sanchez, especially after he outgunned superhero Tom Brady and the New England Patriots in Week 2 of the NFL season.
Less noticed, though, is Sanchez's presence among the less than 1 percent of NFL players who are of Latino background. Their numbers are growing, but those players remain mainly off the radar screen.
So does the history of Latinos in the NFL, despite the fact that many broke through with landmark achievements in the league well in advance of African-Americans. For example:
[+] Enlarge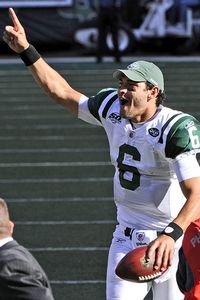 AP Photo/Bill KostrounMark Sanchez is a sensation in New York after his fast start with the Jets.
• Joe Aguirre became the first Latino drafted by an NFL team when the Washington Redskins chose him in the 11th round in 1941, five years before Kenny Washington and Woody Strode became the first African-American players in the modern era of the NFL.
• Jim Plunkett was a Latino quarterback who won Super Bowl XV for the Oakland Raiders in January of 1981, seven years before Doug Williams became the first African-American quarterback to win one.
• Tom Fears became the first Latino head coach when the expansion New Orleans Saints hired him in 1967, more than two decades before Art Shell became the first African-American head coach with the Raiders in 1989.
• And with Plunkett calling the signals, Tom Flores coached the Raiders to their Super Bowl XV championship, 26 years before Tony Dungy became the first African-American head coach to win the big one.
While many can name those first African-Americans, few can cite the names of the first Latinos in each category.
But when Sanchez was thrust into the spotlight as the starting quarterback for the University of Southern California in his junior year, he immediately became a role model for many Mexicans and Mexican-Americans in Southern California and around the country. He is proud of his heritage, and wore a mouthpiece with a small Mexican flag painted on the front in a game against Notre Dame. His fans reveled in the shared pride.
Nonetheless, Sanchez received a number of angry e-mails and letters after that Notre Dame game, telling him, among other things, to go back to Mexico, according to the Los Angeles Times. It had an echo in the African-American community, when so many athletes were told to "go back to Africa," even when generations had passed since anyone in their families had set foot in Africa.
Sanchez was born in the United States and has two older brothers who played football at Yale and DePauw. Their heritage was never a topic of controversy at those places, but their public exposure never rose to the level that Mark's did. Nor did they flash their ethnic pride on a national stage.
(The article continues at http://sports.espn.go.com/espn/hispanicheritage2009/columns/story?columnist=lapchick_richard&id=4502612)